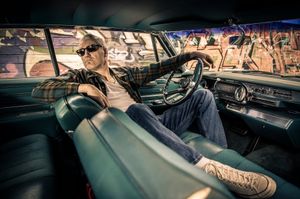 Chickenbone Slim is the stage name of Larry Teves, born and raised in Santa Cruz, CA, where he attended Harbor High School and swam and played water polo. In 1986, Larry moved to San Diego to attend San Diego State University and recieved his Bachelors Degree in Business Management in 1990. Larry played bass in numerous San Diego bands through and beyond college, such as The Mississippi Mudsharks, Lady Starr, The Boogiemen, Jinxking and backing up SDMA Lifetime achievement award winner Tomcat Courtney. The discovery of an old amplifier (a Magnatone inside a Bell and Howell Amp case) and the desire to learn guitar for songwriting was the next step in Larry's musical journey.
In 2011 Larry started taking guitar lessons from SDMA winner Robin Henkel. After working hard in the woodshed, bestowed with his "guitar" nickname by John Flynn earned at the blues jams, Chickenbone started his band in 2012 with rehearsals at an office on Adams Avenue on Tuesday evenings. He named the band "The Biscuits" after his favorite food. After a few months, realizing there was an event the same time as the practice three blocks away, CB asked Mike Magers, the owner of Smitty's Service, if the band could play a Tuesday for the locals. The event was Tasty Truck Tuesdays, and Mike graciously agreed to donate the electricity. The first show turned into a weekly affair, enabling Chickenbone to learn his trade and to start performing at local events and clubs throughout San Diego.
After two years, Tasty Truck Tuesdays was closed for live music due to ASCAP performing rights restrictions. The weekly fees needed to prevent a lawsuit (with retroactive fees back to the start of Tasty Truck Tuesdays) made it impossible to continue with live music. CB has fond memories of performing for the kids, dogs, and all the locals. Chickenbone subsequently joined BMI for his performing rights partnership. Subsequent performances after Tasty Truck Tuesdays included the Adams Avenue Street Fair, the Harp Fest, Adams Avenue Unplugged, The Lemon Festival, The San Diego Blues Fest, and top clubs and festivals throughout San Diego and beyond.  
Chickenbone released his aptly named third album "Sleeper" in February 2020, barely one month before the pandemic hit. With all touring and performing live frozen, what could a Chickenbone do? Well, as fate would have it, Larry's bass player Andrew Crane was also unable to work gigs,  as well as Marty Dodson (who has recorded all of CBS's albums) and his neighbor Laura Chavez (who had contributed a solo to "Sleeper" on "Tougher Than That") whom was also idle from touring and performing. Chickenbone and the new band started woodshedding, rehearsing and arranging a backlog of Chickenbone's original songs. The work resulted in new sets of music, porch performances and busking on the rough streets of San Diego's Little Italy neighborhood, where the band honed the music and performances. The subsequent local performances and touring as the world re-opened resulted in the album "Serve It To Me Hot", which was recorded at Greaseland Studios with mixing and mastering by Christoffer "Kid" Andersen.
"Serve It Too Me Hot" was released on November 19, 2021 by Vizztone Records, and in December climbed to #4 on the Living Blues Album Charts. The album also reached #2 on the Roots Music Contemporary Blues charts. Recorded at the famous Greaseland Studios in Campbell, CA with Christoffer "Kid" Andersen, reviews are strong across the United States and Internationally. The band was warmly accepted on their first international tour to Europe to perform at the Goezot Hofke Festival, Belgium. A highlight for the album was winning the 2022 San Diego Music Award Best Blues / Jazz Album, as well as being a first round Grammy Nominee and Blues Blast Awards nominee. 
Chickenbone's new Album, "Damn Good and Ready" was recorded during the winter of 2023 in the middle of a tour to Northern California. The "Bomb Cyclone" event caused one show cancellation, but the band took advantage of the extra time to record the new album. The album features Laura Chavez on guitar (Candye Kane, Vanesa Collier, Nikki Hill), Marty Dodson on drums (Kim Wilson, Mark Hummel, Nicki Hill) and 21 year old prodigy Justice Guevara on electric and standup bass. As with all of Chickenbone's music, the recording, mixing and mastering and several instruments and vocals was engineered by "Kid" Andersen. The album was released August 4, 2023 on Vizztone Records to great reviews.
Chickenbone Slim and the Biscuits performed over 120 shows in 2022, And will perform over 150 in 2023, including performances in Europe and the United States. With a large setlist of predominantly original music, the band can perform from 1-4 hours of Roots Rock, Blues and Americana suitable for all ages from low volume dinner shows to full concerts, festivals, street fairs and swing dance events. The band is fully equipped with transportation and is available for national and international touring. Additional information on request.